Peter Garrett has spent a lifetime exploring the beaten and unbeaten tracks that run through this country and its people. In March 2024 he will release a new solo album called The True North recorded with his band The Alter Egos (which includes Martin Rotsey from the Oils on guitar). It's a deeply personal reflection on his singular journey, drawing inspiration and sustenance from the living colours of Australia's natural environment and the sights and sounds of modern Oz.
Today, Peter announced an Australian tour in support of this release. Presale tickets will go on sale to members of the PG mailing list from 10am local time next Tuesday, October 24 with General Public on sale from Thursday October 26. For dates and all other info please (click here/see below).
The first official single from The True North was also revealed today – an uplifting track called 'Innocence' which urges, "it's never too late!" Like the rest of this album the song was produced and mixed by Tony Buchen (Smashing Pumpkins, Montaigne, G-Flip, Tim Finn). The single is Peter's first solo release since his 2016 debut with The Alter Egos, A Version Of Now, which made the top 3 of the ARIA Album chart.
The True North will be instore on Friday March 15, 2024 but a series of limited edition pre-order bundles were unveiled today featuring evocative artwork by Peter's daughter, Grace Garrett. To view those items and the album track listing (click here/see below).
WATCH THE VISUALISER FOR
'THE TRUE NORTH'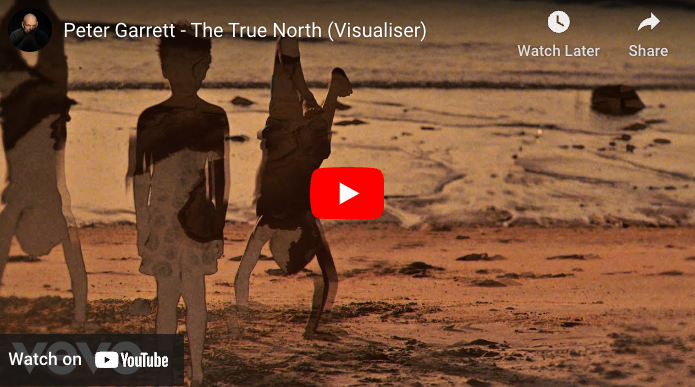 Visualiser created by Rachael Johnston
The core band involved in making the album was Martin Rotsey (Midnight Oil) on guitar with Heather Shannon (The Jezabels) on piano and keys, Evan Mannell on drums and Rowan Lane on bass. Freya Schack-Arnott on cello and Ollie Thorpe on pedal steel joined in too as did two of Peter's daughters, May and Grace who sang on some of the key tracks.
"With the Oils, and even the first solo record, there was plenty of banging down the doors and speaking out about the things that need to change", Peter reflects. "There's still a bit of that in this album too of course but generally these songs are reflective of the special things we need to cherish; the natural world as well as our always spinning internal compass, that helps us navigate the unruly passage of life."
CLICK HERE TO LISTEN TO 'INNOCENCE' PARTS 1 & 2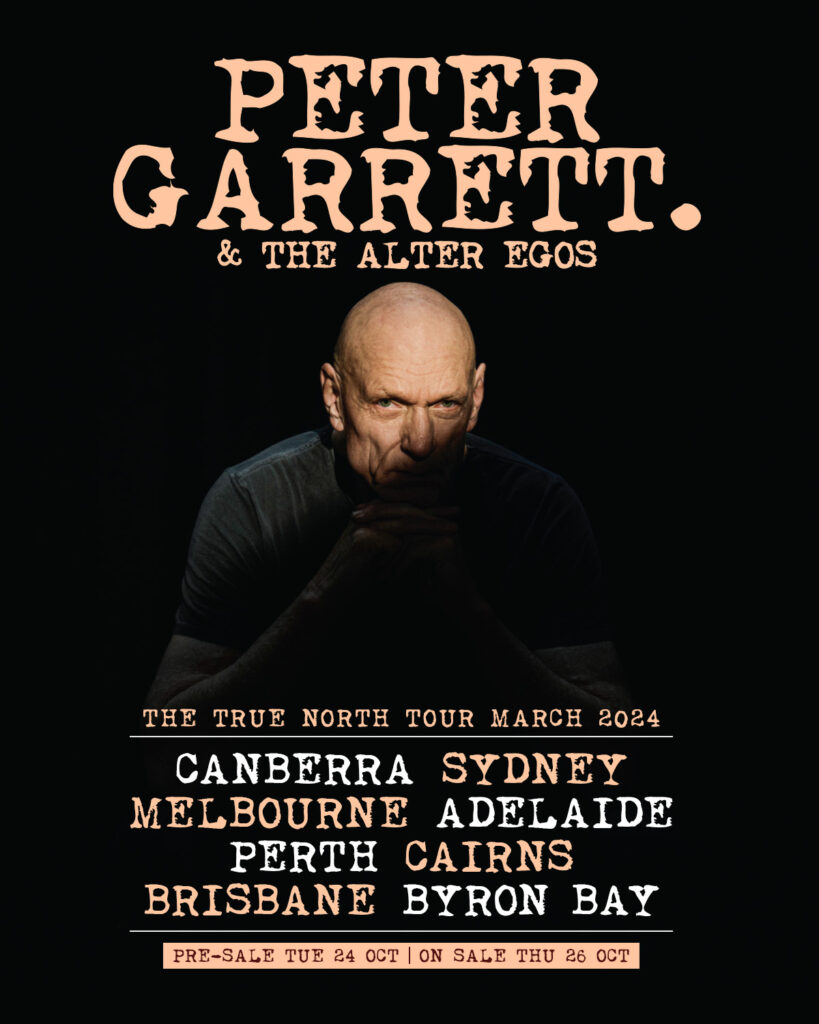 PETER GARRETT & THE ALTER EGOS
THE TRUE NORTH TOUR 2024
Presented by Select Music & Eleven: A Music Company
PRE-SALE TICKETING INFORMATION
CLICK HERE to sign up to the PG mailing list for access to pre-sale tickets.
Pre-sale Runs 24 hours from: Tuesday 24 October (10am local time) or until pre-sale allocation exhausted.
IMPORTANT: An email with pre-sale ticketing access will be sent at 7am AEDT, Tuesday 24 October. Please ensure to check your spam folders, if you do not see a pre-sale email in your inbox shortly after this time.
General public on-sale begins: Thursday 26 October (10am local time)
TOUR DATES
Thursday 14 March – Canberra Theatre, Canberra
Friday 15 March – The Factory Theatre, Sydney **
Wednesday 20 March– Thornbury Theatre, Melbourne **
Friday 22 March – Hindley Street Music Hall, Adelaide **
Saturday 23 March – The Regal Theatre, Perth
Thursday 28 March – Tanks Arts Centre, Cairns ***
Saturday 30 March – The Tivoli, Brisbane
All ages except ** 18+ and *** 15+
ALSO PERFORMING AT
Friday 10 November, 2023
Clearly Music & Arts Festival, Kiama – Keynote Speech
Saturday 11 November, 2023
Clearly Music & Arts Festival, Kiama
Wednesday 29 November, 2023
Always Live: Wangaratta Performing Arts & Convention Centre, Wangaratta
Thursday 30 November, 2023
Always Live: Soundbox Performance, Arts Centre Forecourt Podium, Melbourne
Saturday 17 February, 2024
Riverboats Music Festival, Echuca, Vic
Sunday 31 March, 2024
Bluesfest, Byron Bay
Patrons are advised to purchase tickets only through authorised ticket sellers. 
We cannot guarantee any ticket purchase made through any means other than the official ticketing agents listed on petergarrett.com.au/tour
THE TRUE NORTH OUT MARCH 15, 2024
Track list:
The True North
Paddo
Innocence Parts 1 & 2
Hey Archetype
Permaglow
Human Playground
Currowan
Meltdown
Everybody
CLICK HERE FOR 'THE TRUE NORTH' LIMITED EDITION PREORDER BUNDLES.