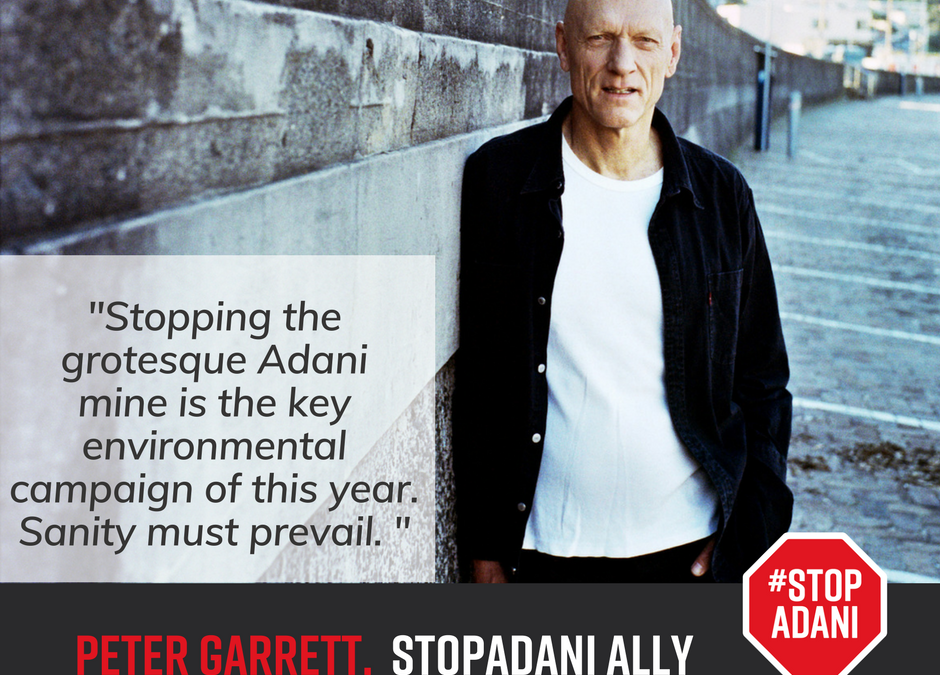 Today I am becoming an official ambassador for #stopadani. For me, stopping the grotesque Adani mine is the key environmental campaign of this year. We need to give the Great Barrier Reef a fighting chance, and carve out a cleaner, renewable energy future for...
Environment laws - strengths & weaknesses - in the spotlight today courtesy of The Guardian - click here.
In an impassioned speech, Peter Garrett said the Adani coal project "cannot be allowed to happen" and promised he would be in the front line to stop it, writes Giles Parkinson.   Read the full article...
According to Peter Garrett, putting his new band on stage for the upcoming Zoo Twilight concerts makes perfect sense, writes Martin Boulton.
29 October 2016 The JK McDougall Lecture to the Ararat Branch of the Australian Labor Party (edited version) by Peter Garrett. 'Labor, the natural party of the environment.' Politics in 2016 is shrinking; hollowing out and spiralling in weird directions that are hard...
Former environment minister says party needs to make commitment more explicit in order to win over progressive voters, who have drifted to the Greens.  
The woman in the documentary - narrated by Peter Garrett - tells of receiving broken ribs as her husband kicked her on the floor, and having to take a punch he intended for her child.
Midnight Oil frontman Peter Garrett joins Bondi Pavilion fight Liberal not proud of crossing floor on pavilion issues Waverley Council preparing 'fair use' policy for Bondi Pavilion Prime Minister Malcolm Turnbull drawn into pavilion debate THE community will get...
No one has ever looked more relaxed and comfortable. Sitting on a sofa sipping tea, he is a formidable, familiar figure, happily taking stock of his life against the backdrop of a Sydney recording studio. In this chamber there is no opposition to shout him down, no...
Yothu Yindi were one of the first bands to bring the music, the stories and the issues of Indigenous Australia to the world with their energetic and beautiful music. Peter Garrett contributes some words to this feature on Double J, celebrating 25 years since the...
Midnight Oil frontman and former politician Peter Garrett has announced the release of a debut solo album, which he says happened by accident.